Club Rides (or Club Runs) are our staple weekly rides. They're open to all members and welcome anyone looking to get to know the club better. We host a Sunday Club Ride each week, and in the summer months we have a shorter, faster route on Tuesday evenings. 
The Sunday Club Ride tends to be about 50 – 60 miles (75 – 100 km), with a cafe stop around half way. These Sunday rides are a great way to get to know people as our routes stick to some of the quieter lanes, allowing for a more relaxed social ride. Routes for the Sunday ride can be found on this page and we'd encourage you to download and bring the route if you can.
We ride in groups so that riders of similar pace can ride together. Each group will have a Ride Leader who will take on the responsibility of making sure everyone is safe, comfortable, and isn't left behind. In general, we have three groups:
Group 1 rides average ~ 17.4 – 18.6 mph (28 – 30 km/h)
Group 2 rides average ~ 15.5 – 16.8 mph (25 – 27 km/h)
Group 3 rides average ~ 13.6 – 14.9 mph (22 – 24 km/h)
These speeds are here to help you know what to expect and will likely be slightly slower on hillier routes or in the winter. If you're unsure what group is best for you, why not get in touch!
To view and download this week's route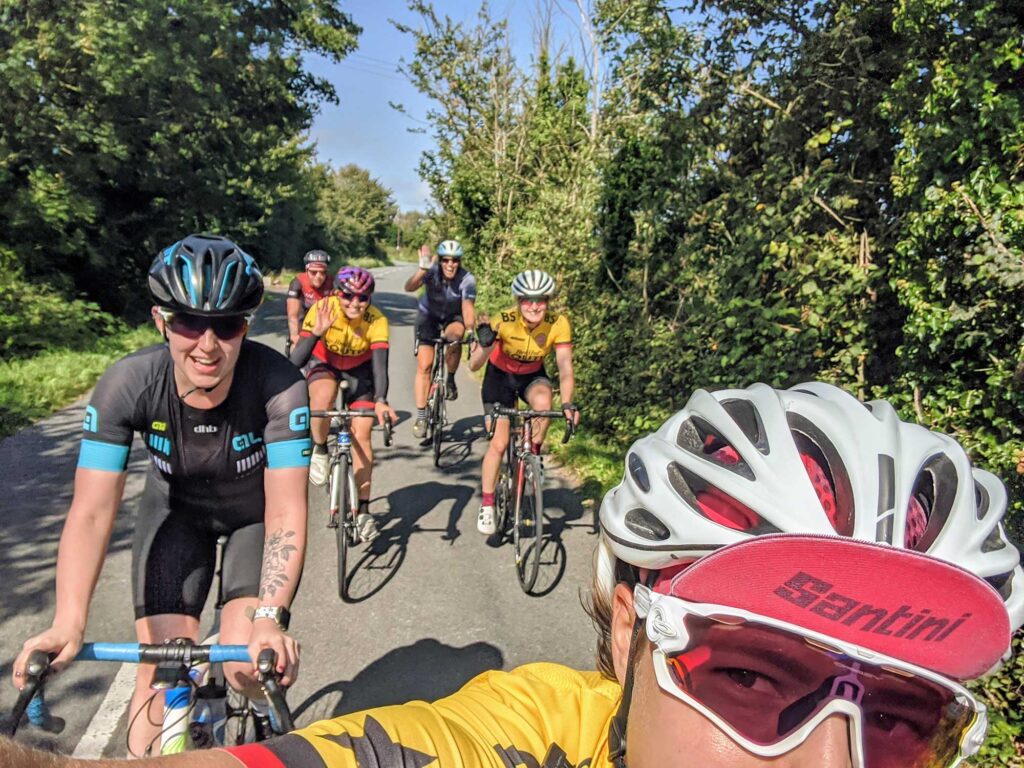 Our Club Rides are open to all, but if you're new to cycling with a group it's important to know the basics in riding etiquette to keep everyone safe. You might find these videos on how to ride in a group and signals for group riding useful.
For an introduction to how to ride in a group check here.
Or for a more detailed guide to how to communicate as part of a group check here.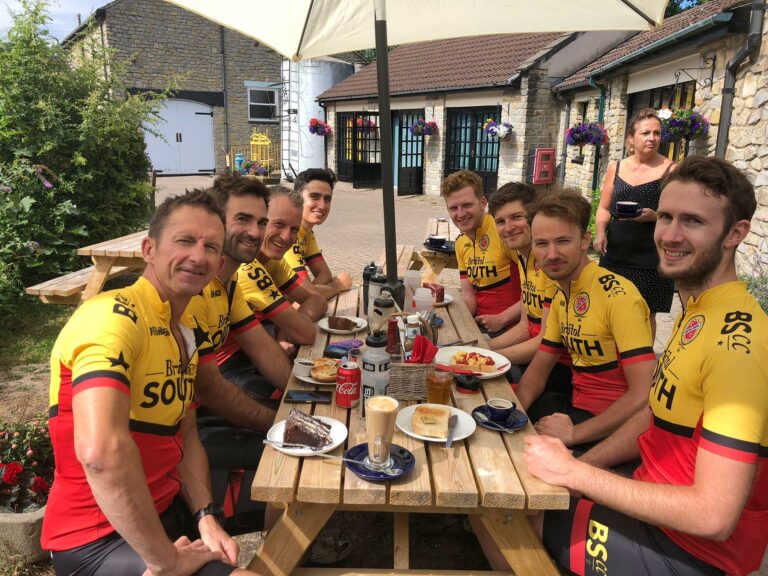 Everyone's welcome to our Club Rides even if you're not yet a member. Normally we encourage people to just turn up at the ride meeting spot, but if you've never ridden with us before, or have questions about the ride you can always contact the Club Captain first. It's also worth turning up a little early to allow for some time to introduce yourself. We meet at 8:30am in the summer months (March to October), and 9:00am in the winter (November to February).
The Intro Ride is a club ride that's specifically for those who are new to cycling, new to riding in a group, or are returning to sport after a break. These rides tend to be about 35 – 40 miles (50 – 65 km) long, with a cafe stop around half way. 
They run on the first Sunday of every month and always have an experienced Ride Leader from the club. For the Intro Ride, you are welcome to turn up on the day. Alternatively, you can get in contact and we'll make sure the Ride Leader knows you're coming along. 
Thinking about joining us on a club ride but still have some reservations? What you need is a Ride Buddy.
As the name suggests, these rides take place on Tuesdays and the aim is to ride fast. They are held weekly, around the same 27 mile (44 km) route, during the summer months.
We meet outside Mud Dock (NB – for the rest of 2022 we'll meet at the Create Centre car park) at 6:30pm and set off in small groups, cycling in either a Chain Gang or Pace Line. This ride is about working together to go fast by taking turns at the front of the group. Unlike the Sunday Club Rides, riders may be dropped off the back of the group before a routine re-group at the top of the climb up Two Mile Hill from Portbury. Rides typically finish in Wapping Wharf for a well earned post-ride refreshment!
We organise groups of similar paced riders, just like the Sunday Club rides. We also have a women's group, and at the start of each week we introduce new riders to what they need to do riding in a Single Pace Line.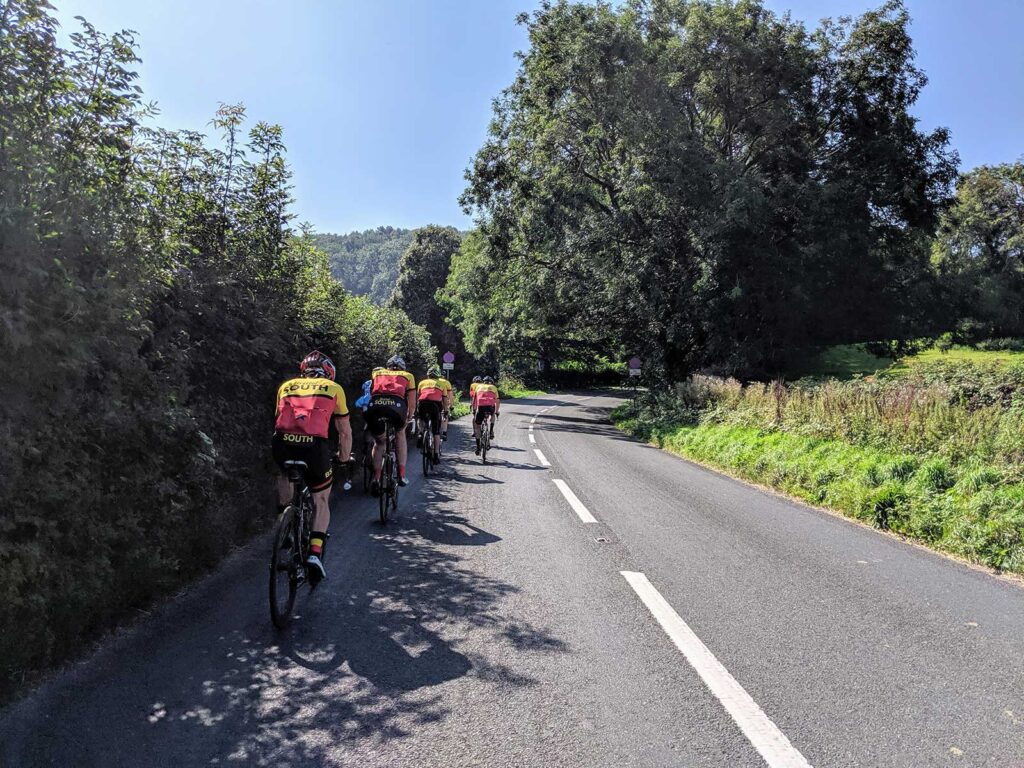 Just like our other rides, we welcome non-members and can help you find the right group by either getting in contact or turning up on the day. This ride always has a friendly atmosphere and is a great way to keep fit during the summer.
As well as the weekly Club Rides we also hold a series of special rides throughout the year. These include: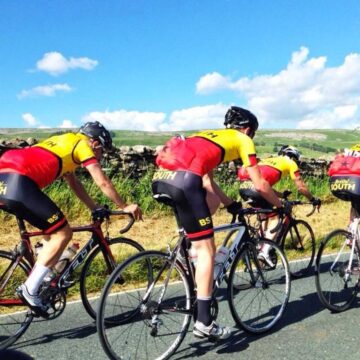 Twice a year the normal Sunday Club Ride is upgraded to cover almost twice the normal distance and climb all our favourite hills in the Mendips. Usually planned for a sunny day with ample cafe stops, it's an epic social ride and a good way to test your fitness.
Check the club's RideWithGPS pages for routes and dates.
Distance : approx. 90 miles
Ascent : 1900-2400m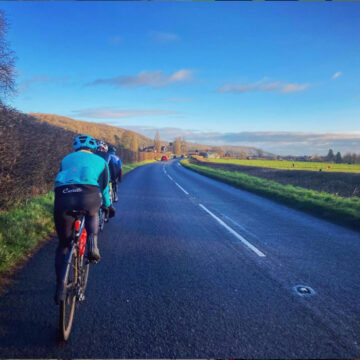 Taking place on the first Sunday in December, the Year in a Day ride takes in all eleven segments from the year's Segment Competition (as well as a few extra hills for good measure). It's always a formidable challenge and is rarely made any easier by the weather.
Distance: approx 60 miles
Ascent: 1500-2200m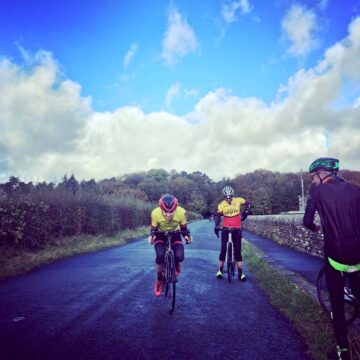 Uphill / Downhill (aka The David Hill Memorial Challenge)
This annual event replaces a normal Sunday Club Ride, and is usually organised by the Club Captain in November. Riders are taken to two top secret locations. At the first they complete a timed hill climb before moving on to a second hill. Here they complete a freewheel (no pedalling allowed) downhill, with the aim of travelling the furthest. Whoever scores the best combined results wins the coveted Uphill / Downhill Trophy!
The trophy was presented by David Hill's family when he died in 1993. David served the club as both chairman and as Time Trial Secretary.