We're a club with history
But we're always looking to the future
Formed in 1893 by a group of enthusiastic cyclists, Bristol South Cycling Club has been riding the roads around Bristol ever since.
We welcome riders of all abilities and currently have over 300 active members.
Our club members are involved in a wide range of cycling disciplines, including Road Racing, CX, TT, MTB and Hill Climbs. We run our own events including a TT series, an annual road race and hill climb.
The mainstay our or weekly activities is the Sunday Club Run. We have in excess of 30 routes and they all involve a stop for coffee and cake. They're a great chance to build up some miles and meet up with other club members. Visit our club rides page for more information.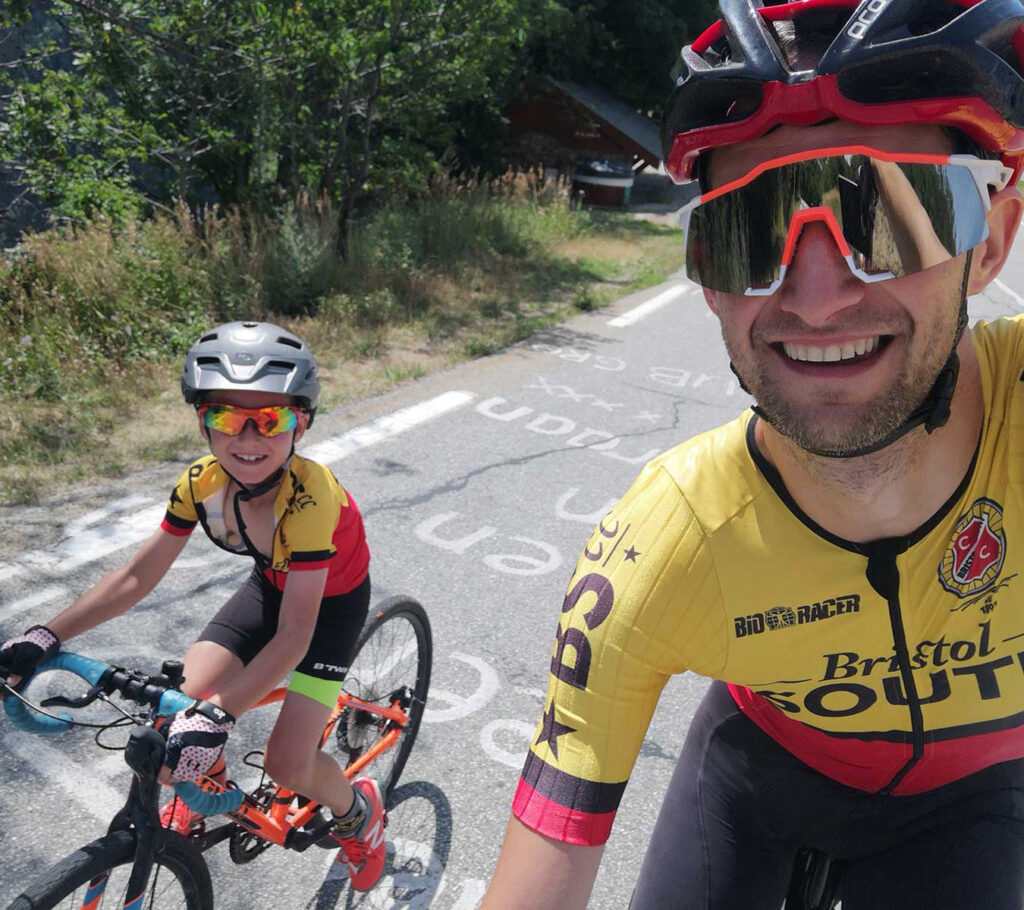 In April 1893 a group of cycling enthusiasts met in a coffee shop in Bedminster and formed Bristol South Cycling Club. Their first ever club ride, a run to Bath and back, took place on 29 April 1893. A lot has changed since then, but the club is still held together by a shared love of cycling in the beautiful South West countryside.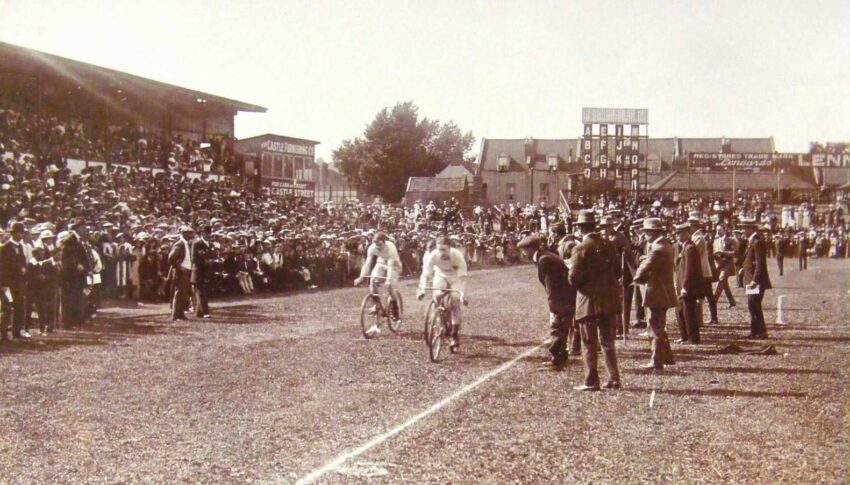 Although now a firm feature of the club,  racing started by chance, with members out on a touring holiday deciding to have a go around a track in Wells in 1894. Some of the members then decided to join the half mile race and set about converting their roadsters to racers by dismantling the mudguards and brakes from their bikes. To the amazement of the club, member R (Bobby) Alden won his heat and then the final! He went on to take up racing seriously and became the first Club Champion in 1896.
Bristol South CC survived the war years and saw a rapid revival going into the late 1940s when it reorganised and admitted women for the first time. While this is taken for granted today, it was very progressive at the time. 
The club had now established itself as a major cycling club, with members competing at national level events. In 1961, Souther, Chris Holloway (pictured) managed third place in the Best British All Rounder (BBAR) competition with Bristol South claiming first place in the National Team Competition. Then in 1966, Barbara Body became the first Bristol Souther to represent GB at the World Championships, on the famous Nuremburg Ring in Germany. 
Throughout the Sixties, Seventies and Eighties the club remained especially active in time trial events, including promoting the first ever time trial held in the UK for professional riders, in 1967. Following his placing in the 1961 BBAR competition, Chris Holloway continued to excel, achieving first place in the Middlesex R.C. 12 hour TT (1965), Western T. T. A. 100 mile TT (1981), and the Welsh C.A. Championship 100 mile TT (1982), to mention just a few. 
In 1982 the club promoted the National 25 mile Championship on the Gloucester Road, which was won by Dave Lloyd.
By 1992 Bristol South CC was celebrating its Centenary in a new patterned racing stripe kit, still retaining the original club colours of red and gold. To mark the event, the Club re-enacted the first ever club run from Bristol to Bath along the railway cycle path, in association with the Veterans Cycle Club. The club also promoted the National 100 mile TT Championship on the Gloucester Road.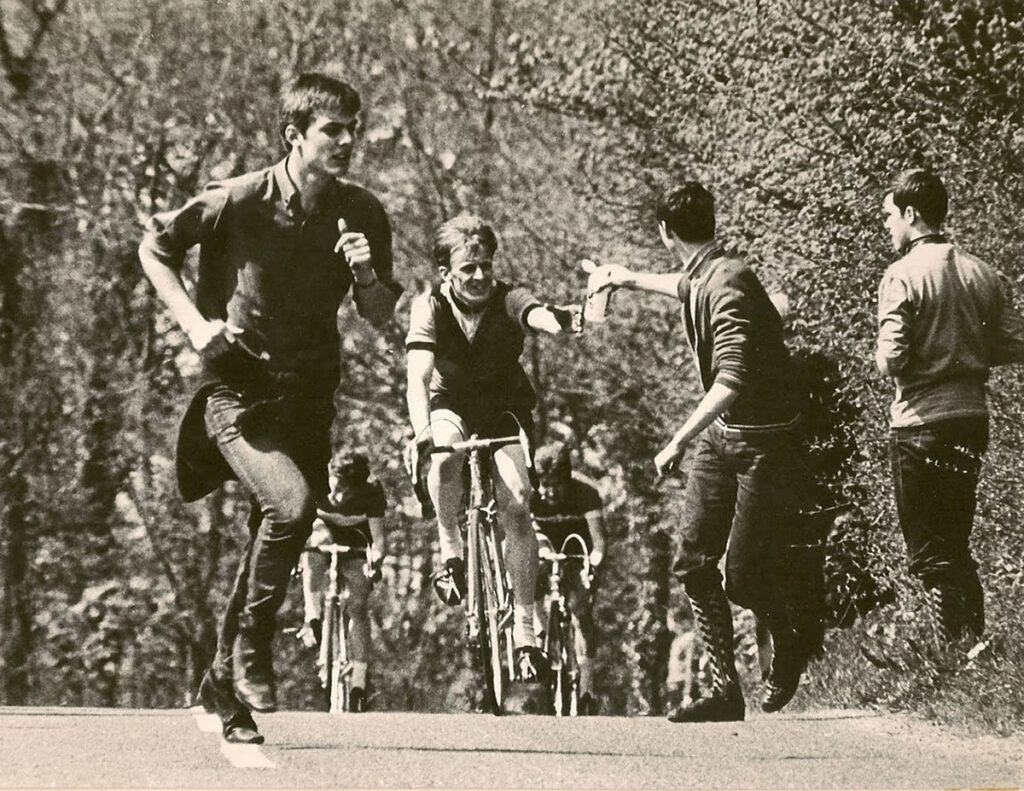 Amongst other things, the noughties were notable for Souther, Dave Keene's three wins in the World Trike Championships (2005, 2006 and 2008). He also organised the 2007 National Hill Climb Championship in Cheddar Gorge.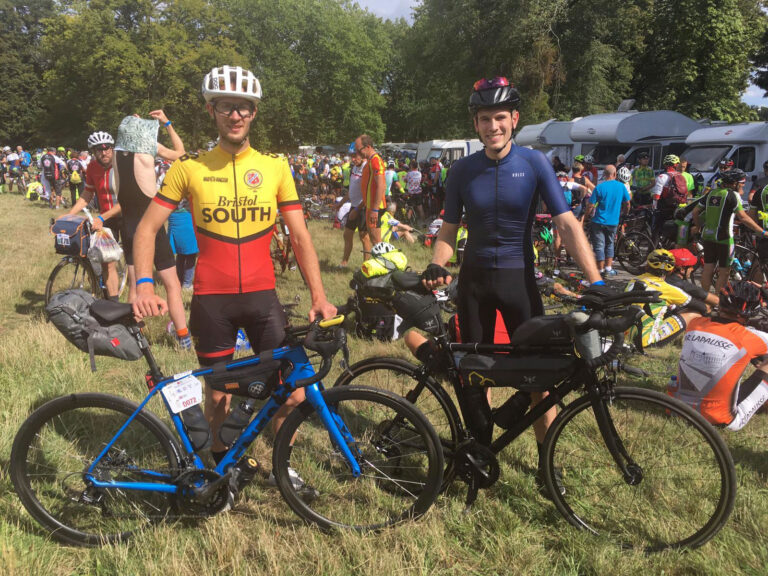 Over the years, as membership has grown, the club's interests have diversified. The new millennium saw members taking part in events such as Paris-Brest-Paris, which had no less than six Southers riding in 2019; the Trans-continental Race, with Souther Gareth Baines coming in a mightily impressive 8th in 2015; not to mention Everesting, where Alice Thompson claimed the Women's record in 2018 with 89 repeats of Naish Hill to ascend the required 8,848m.
The club continues to excel in time trialing and hill climbs with a number of notable achievements in recent years. These include a stand out 2019 for Meg Dickerson which saw her take 3m 23s off the women's 10 mile TT club record and a full 5 mins off the Women's 25 mile TT club record. She also placed a very impressive fifth in the National 10-mile TT. In the men's events, Nick Livermore also had a stellar 2019, claiming the club records for the 10 mile, 25 mile and 30 mile TTs. The National Hill Climb Championships in 2020 were held on Streatley Hill near Reading and saw Kate MacTear claim an excellent sixth place in BSCC colours from a field of 109 starters.
For more than 100 years the club has been able to celebrate these notable achievements against the backdrop of countless weekend rides, coffee stops, and miles of riding with people who love the sport of cycling. We at Bristol South are proud of our history, but we're looking to the future!
We're rightly proud of our history and some of the amazing performances members have put in over the years. 
Club Officers
BSCC is run by a dedicated and enthusiastic group of members. We're all volunteers with a passion for cycling and between us we keep the club running smoothly! We're also always keen for members to volunteer and help us run our events – it's a great way to give back to the club.
The current Club officers are featured below. The list of previous officers is available here.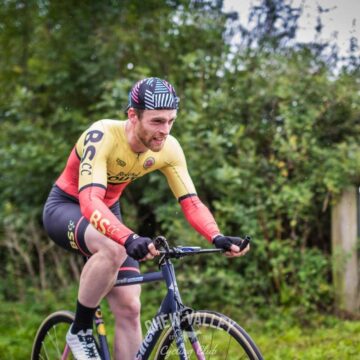 Dave Cullen (he / him)

Chairing club meetings, help organising the club's event calendar and generally steering the ship Dave Cullen is the current Chair of BSCC. He's passionate about coffee and riding and racing bikes and has competed at the National Hill Climb Championships twice. He loves to race his Cinelli track bike which took him to victory at Tunnel Sprints and has been a firm friend since. Dave is passionate about a diverse and inclusive BSCC.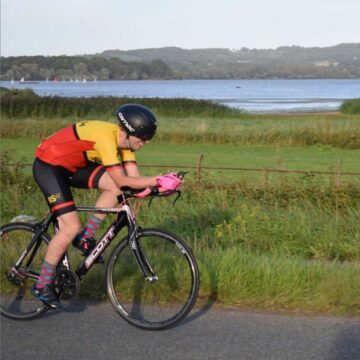 Craig Rockcliffe (he / him)

An outdoors lover through and through, if Craig isn't out on his bike you might find him trail running, in the mountains or even out on the water. Craig is there to help Dave and the rest of the committee in all things club related.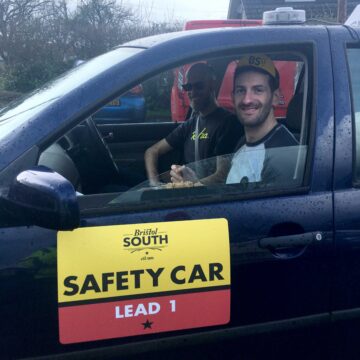 Dave Cameron (he / him)

We promise you can join this committee if you're not called Dave, but we do seem to have collected some good Daves over the years. Dave Cameron is one of them and has been the club captain since 2019. Dave joined BSCC because we have "the best team kit" and as captain he's there to welcome many more new faces to the club with the best kit. Organising and running club runs year round keeps Dave fit and enjoying his share of road-grit and winter weather. Find him on a club run!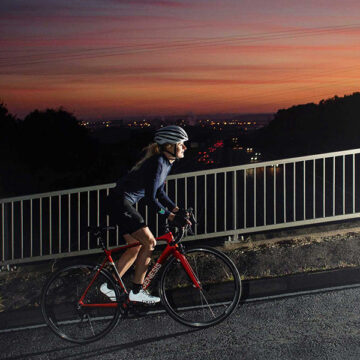 Alice Thomson (she / her)

Alice created the women's officer position back in 2018 and has been in the role since. She's passionate about equality and inclusion in cycling and loves to see womxn getting into cycling and out racing. Whilst the pandemic put her womxn's winter rides on hold she's keen to make sure the club keeps doing everything it can for its female riders and racers. She also likes cycling uphill, taking part in the monthly segment competition,  and Jo Knight's cakes.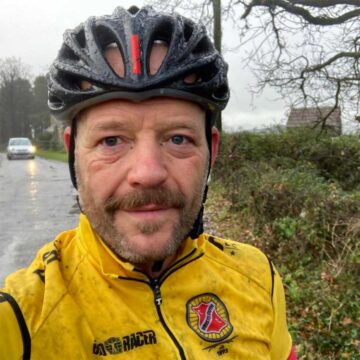 Barra Mac Ruari (he / him)

Keeping the club financially afloat is Barra's responsibility. He also loves cycle touring and can often be found on a touring adventure, loaded with paniers and with his family pedaling alongside! Barra is an architect and city planner by trade and is passionate about the city being cyclist friendly!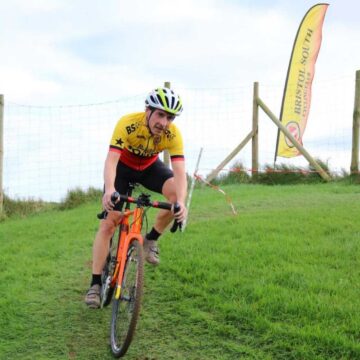 Tim Barnes (he / him)

Tim is responsible for keeping us organised. Tim says he particularly enjoys being "shelled" on the fast Tuesday route on a summer evening, and also enjoys mountainbiking and cyclocross. He has the (unofficial) club award for best helmet hair.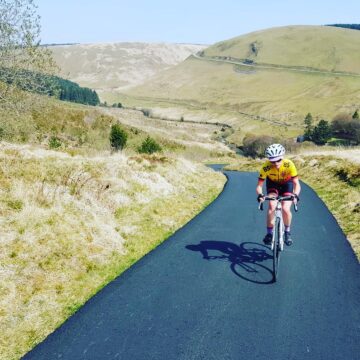 Katherine Brand (she / her)

Katherine organises our intro rides. (What's an intro ride? Check out our club rides page). She loves a sunny Sunday club ride, and even better when she gets to welcome new faces to the world of club cycling.
Catching the cycling bug out with her dad on a tandem, Katherine has since developed a fondness for cycling mountain passes (or more regularly, some Mendip hills), and also says life wouldn't be complete without Friday pastry at Hart's Bakery.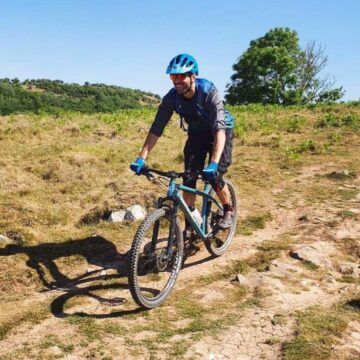 Matthias Mueller (he / him)

Matthias joined the club in 2020 and has thrown himself into club activities, taking on the social media role and doing a great job!
He loves road cycling and mountain biking and plays basketball. He's also got a young family he loves to spend time with.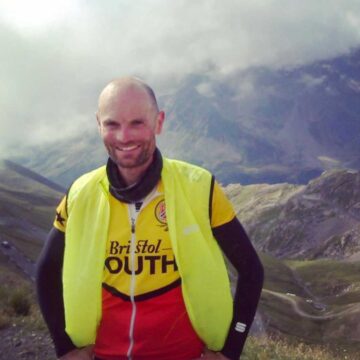 Ewan Johnston (he / him)

A legend in the club, Ewan has been running the monthly segment competition since 2013. He also puts together the yearly charity ride which takes in all of the hills from the monthly competition in one go.
Ewan is also in the club of BSCC authors and has written a brilliant book on Cycling with MS. You'll also often find Ewan at the top of the club Strava distance leaderboard each week!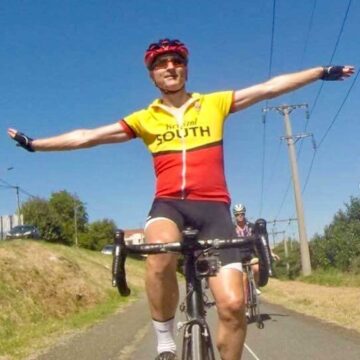 Mark Bradley

Mark is responsible for making sure new members can join the best club in the south west, and then get access to the 'best club kit' there is!
Famed for doing a cycle tour around all of Bristol dropping kit off, and some blisteringly quick TT times, Mark is a big part of BSCC.  He's turned his hand to most disciplines; TT, road, track, audax, gravel, and tandem TT. He's also helped the club stay fit and competitive in lockdown with a weekly winter zwift race series!
The Club's activities have been well documented in photos over the years. Here is a flavour of some of them but feel free to explore the Club's galleries by clicking on one of the links.
Club rules and regulations